Clown #4105
Based in Erskine
,
Glasgow
Family Entertainer and close up Magician. Kids Magic Show Balloon modeler Games and Competitions. Bubble Workshop, Magic Workshop, Balloon Workshop, C
---
Clown #4098
Based in LEEDS
,
West Yorkshire
This entertainer has performed for over twenty years entertaining children all over the world - his aim to make a happy memory for everybody at the pa
---
Clown #3978
Based in bilston
,
West Midlands
COMEDY MAGIC SHOWS WITH LOTS OF audience PARTICIPATION , FACE PAINTING, BALLOON MODELLING, ALSO PUNCH AND JUDY .CRB checked+ £10 million public insura
---
Clown #3779
Based in Sidmouth
,
Devon
This highly acclaimed children's entertainer, has an extremely funny show, which is uniquely very entertaining for adults too. The show includes comed
---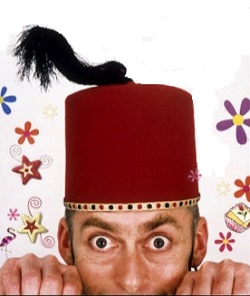 Clown #3658
Based in Leeds
,
West Yorkshire
Circus show is full of spectacular juggling, plate spinning and magical circus fun. He performs it not only at festivals and large events, but also in
---
Clown #3628
Based in Ely
,
Cambridgeshire
Highly experienced Jester available for all Medieval Events and private parties
---
Clown #3585
Based in Seaforth
,
Merseyside
We are a family business specialising in children's and family entertainment around Merseyside and the North West.
---
Clown #3459
Based in LEIGHTON BUZZARD
,
Bedfordshire
Entertainer, Fire Performer, Balloon Modeller, Stilt Walker, Circus & Arts/Craft Workshops. Milton Keynes based Random Mike has Wowed audiences Wo
---
Clown #3390
Based in Devizes
,
Wiltshire
Whatever your needs if you are looking for a good traditional looking clown then this is your clown
---
Clown #3383
Based in Glenrothes
,
Fife
Childrens Entertainer, doing magic shows, balloon modelling, stiltwalking. walkabout childrens galas, birthdays, shop openings
---
Clown #3151
Based in Bath
,
Somerset
Bubbles, balloons, comedy magic and juggling show with funny antics, tricks and surprises in between. Fun circus skills for everyone. CRB Checked, E
---
Clown #3028
Based in Canterbury
,
Kent
From children's magicians to teenage discos, this clown regularly entertains in Kent and London, all areas are considered... and will make your birthd
---
Clown #2980
Based in Skegness
,
Lincolnshire
With more than 20 years' experience, this entertainer provides a range of entertainment options that kids of all ages can enjoy.
---
Clown #2979
Based in Fareham
,
Hampshire
Whatever type of party or special event you are thinking of organising, we have the childrens entertainers to make your event one that will be remembe
---
Clown #2975
Based in Reading
,
Berkshire
Clown magic show balloon modelling party games
---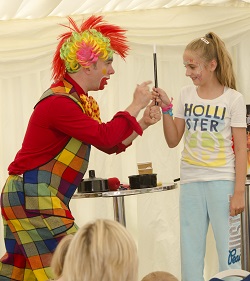 Clown #2943
Based in Buckie
,
Moray
Clown, Balloon Modeller and Children's Magician. Children's slapstick comedy show! Clown/Circus workshops can be provided at children's parties and
---
Clown #2900
Based in Morecambe
,
Lancashire
We Provide Great Fun Magic Show, Balloon Modelling, Puppet, Games, Mini Discos, For All Ages, As Seen on Britain's Got Talent
---
Clown #2844
Based in Market Harborough
,
Northamptonshire
The Boogie Box and Magic show for children under 6 years of age, it is very silly with lots of comedy and fun. Magic, Music and the unique pass the pa
---
Clown #2772
Based in Darlington
,
Durham
Friendly clown, promoting good fun, entertainment, magic and basic circus skills. Great for parties and walk around events. Punch & Judy. Proud Me
---
Clown #2766
Based in Borehamwood
,
Essex
A most respected entertainer who always receives great reviews and repeat bookings
---
Clown #2763
Based in Birmingham
,
Warwickshire
Professional Clown that has been been clowning for over 30 years and has worked with numerous celebrities including Sir Norman Wisdom, Jimmy Cricket,
---
Clown #2720
Based in Christchurch
,
Dorset
This Entertainer has been in the business for many years and children are entertained by his silly antics and colourful puppets theatre show.
---
Clown #2716
Based in Leeds
,
West Yorkshire
He has been entertaining children for over twenty five years, his Instant Circus Party includes full Clown Show, Games, Bubbles, Circus Skills (13 dif
---
Clown #2688
Based in Bristol
,
Gloucestershire
Fun and friendly female entertainer. Specialising in balloon art, interactive theatre and children's entertainment. Also offering stilt walking charac
---
Clown #2654
Based in Clydebank
,
West Dunbartonshire
Magic, Fun & Games, Balloons, Prizes & Lots more! Parties form 1 hour duration. Let this entertainer take the effort out of your day. Grans to Granwai
---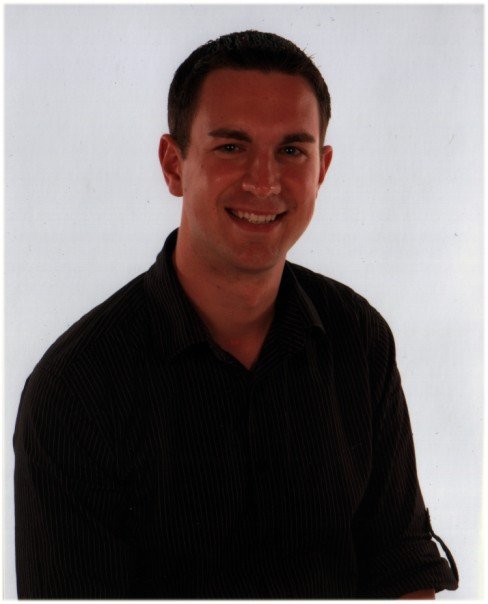 Clown #2622
Based in Tollcross
,
Glasgow
All round performer and entertainer just back from 8 years on Cruise ships as Cruise director and performer.
---
Clown #2480
Based in Llandudno
,
Conwy
Professional Children's Entertainer. DJ/Compere. Lighting & Sound Technician. Production Arts & Stage Management. Event stages, Sound and lightin
---
Clown #2450
Based in Taunton
,
Somerset
The ultimate crazy mad capped clown! Available for walkabouts or Statics!
---
Clown #2404
Based in borehamwood
,
England
I am established children's entertainer for over 25 years organising and devising party games and competitions to fit into any theme. Let the guests
---
Clown #2335
Based in Hove
,
East Sussex
Has been entertaining children & families since he was a kid! & takes great pride in his work. Over the years he has made a lasting impact on many chi
---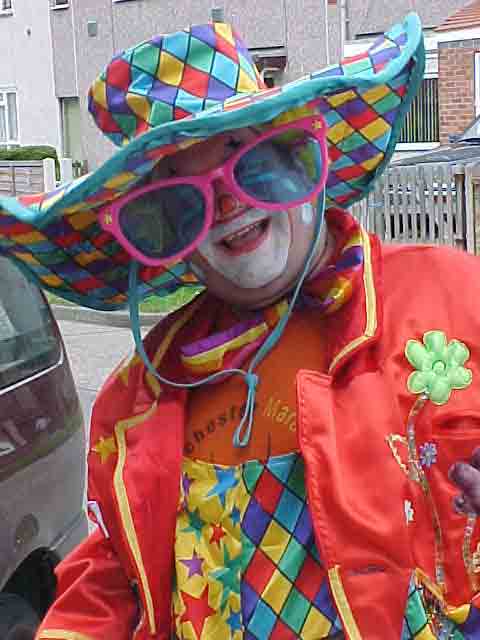 Clown #2307
Based in wythenshawe
,
Greater Manchester
magical clown, children's entertainer ,Childrens partys nursery school school shows shopping centre gala days halloween partys weddings close-u
---
Clown #2211
Based in Keynsham
,
Bristol
We offer circus skill workshops, walkabout and table entertainment, fire shows, glo shows and more! We're experts at stilt-walking, juggling balls, r
---
Clown #2007
Based in lowesotft
,
Suffolk
Stunning visuals and extra funny comical timing have entertained generations of adults and children alike. His vast array of styles and every increasi
---
Clown #1882
Based in Newton Stewart
,
Dumfries Galloway
Magic Music Fun & Games Clown or Magician Childrens party organiser Magic show - Balloon Modelling- party games-mini disco for all events.
---
Clown #1775
Based in ayr
,
South Ayrshire
Childrens and Family Magic Show Game Show Balloon Show
---
Clown #1561
Based in Edinburgh
,
Edinburgh
This entertainer provides tailored entertainment to suit your event. and your budget. With clowning, dancing, singing and storytelling She is a vers
---
Clown #1560
Based in Cannock
,
Staffordshire
known as the magical clown, and under this guise have been entertaining young and old up and down the country for many years. He performs a variety of
---
Clown #1490
Based in Croydon
,
Surrey
A Children's' Entertainer, Providing Birthday Party Fun, Meet and Greet, Stage Shows, Street Performances, Circus Workshops, Circus Skills Parties &
---
Clown #1317
Based in Doncaster
,
South Yorkshire
Very experienced entertainer based in west Yorkshire providing children's magic, close up magic, Punch and Judy and balloon modeling.
---
Clown #1178
Based in Sompting
,
West Sussex
Ahoy me hearties! Welcome to his swashbuckling world and his hilarious friends Squawk the Parrot, Marmite the Monkey, Chewy the Chimp, and Spotty the
---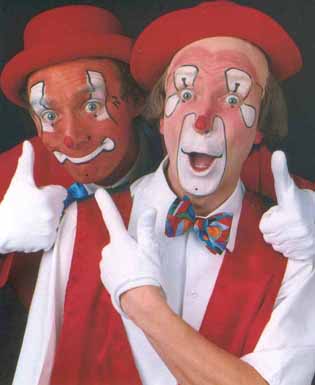 Clown #1120
Based in Tunbridge Wells
,
Kent
Number 1 Clowns for Fundays,promotions,Store Promotions, ect. We Have a First class Circus workshop Also. Also Mix n mingle , jugglers ,Magic, plate
---
Clown #1032
Based in Leicester
,
Leicestershire
This Mad Scientist knows how to entertain. For Birthday parties and any other type of children's entertainment.
---
Clown #1017
Based in Renfrew
,
Renfrewshire
With over 12 years experience in wedding entertainment and children's birthday parties this professional children's entertainer offers the Ultimate Bi
---
Clown #957
Based in Downpatrick
,
County Down
"The most versatile entertainer you're ever likely to meet" She has been causing giggles all over europe for over 15 years.
---
Clown #858
Based in Maidstone
,
Kent
Circus Workshops including, plate spinning, diabolos, juggling, stilt walking, fun wheels and balancing. Also available for balloon modelling and mix
---
Clown #654
Based in Doncaster
,
South Yorkshire
If you need an entertainer for a children's party or fun event, the talented this is the man you need. With tricks and skills to make the noisiest kid
---
Clown #652
Based in LINCOLN
,
Lincolnshire
He has many many different costumes for all occassion stilt walking charactors juggling/unicycling. circus skills workshops for 7 to 107 bright costu
---
Clown #651
Based in pinhoe
,
Devon
Combining Sleight of hand and cheeky humour this magician will take you on an entertainment roller coaster. Taking you from fits of laughter to Wow ho
---
Clown #642
Based in
,
Entertainment Includes: Comedy Magic Shows, Balloon modelling,Hand Puppets, Party Games and Funny gadgets.
---
Clown #546
Based in London
,
Greater London
Magic, puppetry, games, music, competitions and prizes. Balloon modelling too. Also do drama and themed parties. Parties for children all ages
---
Clown #536
Based in Longeaton
,
Nottinghamshire
If you are looking for a D.J, Professional Childrens entertainer, Punch and Judy Man or just Someone to entertain at your event then you have come to
---
Clown #360
Based in South Tottenham
,
Greater London
With his spectacular show including unicycling, juggling, magic, mime, games and lots of silly business, This entertainer will do his best to entertai
---
Clown #244
Based in maesteg
,
Bridgend
He prides himself on delivering the highest standard of performance to every function he performs at, whether it is a small private party or a large s
---
Clown #171
Based in Harpenden
,
Hertfordshire
A professional Childrens Entertainer for All Occasions providing a program of comedy magic, balloons, games, Live Rabbit and Dove, puppets, games and
---
Clown #44
Based in Malvern
,
West Midlands
A skilled juggler, stilt walker, clown and general entertainer. Provides characters including a clown, wizard, medieval jester and Victorian gentleman
---