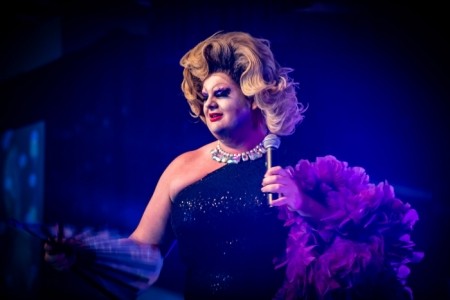 Profile

If you want someone who looks like a woman, can fit into a size 8 dress and doesn't swear. Then you can **** off. The only time I'm not swearing is when I have something in my mouth.
I have had the privilege of travelling all around the country, taking my shows to new cities and towns. Performing throughout the UK at many Gay Pride's, festivals, ladies nights, hen parties and even a baby shower. As well as this I have had the opportunity to preview my new show "Still Fat, Still Single" which will be going on a tour next year. From stand up comedy, to lip-syncing, to even live vocals (sketchy vocals, but live). Trust me, you haven't lived until you had seen this old queen doing Proud Mary in a pair of heels.

Can host any kind of event. Is rude and crude and loves a good looking dude.

In one song can go from a fat campy man(ish) to a glamorous drag queen, but is still fat.

Can lip sync a wide variety of songs to spoken word. These songs vary from the classic queen classics to all the new "hits". Every song that she does, she has put her own twist in it and can adapt to your needs.

Has several full shows, with a one hour show including 10 quick costume changes.

From start to finish she will have you soiling yourself (and not in a good way, or is it?)


* Funny (to all)

* Sexy (to some)

* Thin (to none).
Rates From £ 125
Varies on what you are looking for. And varies depending on travel.
Playlists / Performance Info:
Santa's Baby
Sweet Transvestite
I Will Follow Him
It Should Have Been Me
Kinky Boots: Final Medley
Beaver
Wuthering Heights
Crazy
Titanic Mix
Welcome to Burlesque
Cell Block Tango
I Have Nothing.
And many many more.

Her playlist can vary on what you are wanting.
Entertainment Types:
Drag Queen
Genres: 2000s, 2010s, 60s, 70s, 80s, 90s, Dance, Disco
Costumes / Dress: A wide variety. From a funny costume to go along with a sketch to full on sexy drag queen. Short dresses, long dresses and dresses borrowed from my mum.
Experience: From Hen Parties to Ladies Nights. Went to London for an appearance (that makes me international). worked a red carpet for a charity fashion show, and hosted the event, and didn't even swear once. also for several months I worked weekly as a bingo night host, its okay I'm not that serious took over an hour to get through a game. worked all over Scotland.
Previous Clients: 7 Saints
Taylor's Kilwining
Royal Vauxhall Tavern
And many many more.


You were top tier entertainment from start to finish! You incorporated a lot about the bride in your gags and involved all of the group throughout your performance! Everyone that was there had an absolute ball and the bride quoted it the "highlight of her hen". I cannot recommend you highly enough, your presence is infectious and everything felt natural and FUN! Will definitely see you again!


What can I say incredible! She was our wedding officiater, Dj,singer and entertainer and was just incredible from start to finish! 10000% would recommend to anyone looking for one of the best drag queens out there! Thank-you for everything you did at our wedding we look forward to booking you again In the future.


DJ'd and helped out when needed for our wedding. I couldnt have asked for a better queen and you wont regret booking her. 5 stars all round and everyone loved her

UK Areas Covered: Aberdeen - Aberdeen, , Dundee - Dundee, , East Ayrshire - Kilmarnock, Cumnock, , Edinburgh - Edinburgh, , Glasgow - Glasgow, , Inverclyde - Port Glasgow, Kilmacolm , , North Ayrshire - Irvine, Saltcoats, Kilwinning, Largs, , Renfrewshire - Renfrew, Paisley, Greenock, Johnstone, Kilmalcolm, , South Ayrshire - Ayr, Troon,