Keyboard Vocalist #3925
Based in Northampton
,
Northamptonshire
The perfect solution if you require piano entertainment for your wedding, party or other function. He plays a wide variety of music to create the perf
---
Keyboard Vocalist #3916
Based in Doncaster
,
South Yorkshire
Available as a cocktail pianist to add sophisticated background music to your event/function or also available as a Piano Vocalist with backing tracks
---
---
Keyboard Vocalist #3803
Based in Cadishead
,
Greater Manchester
Live piano music to help make your special occasion or corporate event the best it can be. Wedding pianist, civil ceremonies, birthdays, anniversaries
---
Keyboard Vocalist #3772
Based in Bishop Auckland
,
Durham
Let yourself get lost in the nostalgia that is tickle your ivories Entertainments! Invigorate yourself to the beat or lose yourself in the tranquil so
---
Keyboard Vocalist #3764
Based in Fivemiletown
,
County Tyrone
A two piece piano based rockabilly band with a sound more full than that of any 5 piece band, with thunderous bass from the left hand, and piercing hi
---
Keyboard Vocalist #3646
Based in Burbage
,
Leicestershire
I am an experienced and versatile pianist, offering performances of classical, jazz and contemporary popular music tailored to the requirements of yo
---
Keyboard Vocalist #3568
Based in cromer
,
Norfolk
A one man band for the 21st century. Classic keyboard covers from the 80s,plus a few from the 60s and 70s..
---
Keyboard Vocalist #3315
Based in Middlesbrough
,
Cleveland
Internationally known accordionist vocalist entertainer. who can provide music and song for all occasions including French Nights, German Bier Keller,
---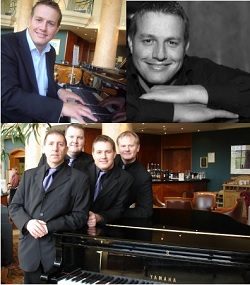 Keyboard Vocalist #3189
Based in sudbrook
,
monmouthshire
Pianist and Vocalist from South Wales that has entertained professionally at private and corporate events and weddings in Britain and across the world
---
---
---
Keyboard Vocalist #2723
Based in southam
,
Warwickshire
An excellent piano player / vocalist, he plays a mixture of contemporary covers, boogie-woogie and jazz.
---
Keyboard Vocalist #2652
Based in Swindon
,
Wiltshire
Are you looking for an afternoon or evening's entertainment for your care home? If so, Wiltshire based vocalist and entertainer, could be the answer.
---
---
Keyboard Vocalist #2530
Based in blackpool
,
Lancashire
Organist / keyboards and vocals. working towerballroom on organ / music for dancing and strict sequence, also hotels and clubs and weddings full night
---
Keyboard Vocalist #2501
Based in Canterbury
,
Kent
Jazz pianist and singer from Canterbury, Kent. Available to hire for weddings, dinner parties, drinks receptions and functions; setting the perfect mo
---
Keyboard Vocalist #2500
Based in London
,
Greater London
Hi there, we are a 6 PIECE PARTY 70's SOUL BAND, (can add brass) who deliver an exciting performance of classic songs by the legends of soul, funk, di
---
Keyboard Vocalist #2467
Based in Loughborough
,
Leicestershire
Set the right tone with beautiful and inspiring pieces played on the violin or piano. A highly established and award-winning pianist and violinist. He
---
Keyboard Vocalist #2387
Based in High Barnet
,
Hertfordshire
Wedding pianist, party pianist and singer. Perfect choice for weddings, bar mitzvah, cocktail parties, office parties, retirement parties
---
Keyboard Vocalist #2369
Based in Penryn
,
Cornwall
This performer is the ideal choice for a cocktail or an event pianist and singer. As well as having an enormous and constantly expanding repertoire of
---
Keyboard Vocalist #2363
Based in Sevenoaks
,
Kent
Accomplished jazz pianist who plays a wide range of music, including traditional, blues, bebop, swing, jazz funk, cool jazz and latin
---
Keyboard Vocalist #2349
Based in Newport
,
Newport
This is a four piece covers band who entertain Wales and the West. We have a wealth of experience and we have all been professional working with some
---
Keyboard Vocalist #2331
Based in Waltham Abbey
,
Essex
Singer/Piano Player/Guitarist, suitable for all occasions. Acoustic performer. Pop/Rock/Jazz/Soul/Country/Classical and more. Extremely competitive
---
Keyboard Vocalist #2149
Based in darwen
,
Lancashire
The finest Keyboard vocalist in the U.K. armed with a vast and varied reportoire and the ability to play 3hours non stop, sophisticated Jazz,Latin, Bi
---
Keyboard Vocalist #1994
Based in Abingdon
,
Oxfordshire
Vocalist,Keyboardist and Guitarist Great divesity playing Rock'n'Roll to latest charts
---
Keyboard Vocalist #1984
Based in Sheffield
,
South Yorkshire
This is an experienced performer who works with a variety of professional musicians. Whatever your function need is, no doubt Michael can meet it, whe
---
Keyboard Vocalist #1935
Based in Sandown
,
Isle of Wight
Singer with keyboard. Sings variety of styles and genres. From 50's to 90's and beyond with a great sound.
---
Keyboard Vocalist #1912
Based in Watford
,
Hertfordshire
We are a Weddings & Functions who specialise in performing popular tracks from the 1950's to modern day numbers. We are suitable for both large and sm
---
Keyboard Vocalist #1830
Based in Hull
,
Humberside
This is a versatile, highly accomplished and experienced pianist and self-accompanied singer, with an extensive and diverse repertoire of completely m
---
Keyboard Vocalist #1812
Based in Newcastle-under-Lyme
,
Staffordshire
Saxophonist available for weddings, corporate events, private parties, and any function where the wonderful sound of the saxophone is needed to 'wow'
---
Keyboard Vocalist #1596
Based in Wellingborough
,
Northamptonshire
Highly entertaining Solo Pianist and Piano-Vocalist/multi-keyboard-vocalist. A varied repertoire of popular songs and tunes spanning many decades and
---
Keyboard Vocalist #1518
Based in Ballinamallard
,
County Fermanagh
Performer of eclectic mix of popular American Standards in the Swing Jazz Style as well as Easy Listening 50s 60s and Country. A fashionista dresses
---
Keyboard Vocalist #1439
Based in Fownhope
,
Herefordshire
Keyboard vocalist guitarist with comedy for mature audiences. Versatile professional and reliable. Spends his time between Fownhope Herefordshire and
---
Keyboard Vocalist #1342
Based in Loughborough
,
Leicestershire
These are a Midlands based pop duo covering all the great hits from today and yesteryear, from Cher, Cyndi Lauper and Madonna to Shakira, Pussycat do
---
Keyboard Vocalist #1305
Based in Birmingham
,
West Midlands
This fantastic singer performs as either a solo artiste or as part of three different duo's, an 80's synthpop tribute, a UB40 tribute and a brilliant
---
Keyboard Vocalist #1255
Based in LONDON
,
Greater London
This is a professional Greek and English entertainer playing live keyboards with vocals. He can also DJ Greek ,English ,Spanish and Arabic music so y
---
Keyboard Vocalist #804
Based in Bournemouth
,
Dorset
Over 10 years experience, professional multi instrumentalist / vocalist covering music from the 1930's to present Day. Suitable for Hotels, clubs and
---
Keyboard Vocalist #611
Based in Urmston
,
Greater Manchester
Top Piano Vocalist with many years of experience in classical and pop music. Ideal fo all occasions both private and corporate. Based in Manchester
---
Keyboard Vocalist #271
Based in Boylestone
,
Derbyshire
A professional piano / vocalist & keyboard / vocal entertainer, available for weddings, corporate events, functions, parties, nightclubs, hotels, crui
---
Keyboard Vocalist #183
Based in Ipswich
,
Suffolk
A fantastic four or five piece professional jazz function band playing a popular mixture of rat pack swing, well loved jazz standards, hot Latin numbe
---