Magician #4126
Based in Manchester
,
Top class children's entertainer from Manchester. His Comedy Magic Show and fun games are the perfect choice for birthday parties or events, he can al
---
Magician #4105
Based in Erskine
,
Glasgow
Family Entertainer and close up Magician. Kids Magic Show Balloon modeler Games and Competitions. Bubble Workshop, Magic Workshop, Balloon Workshop, C
---
Magician #4029
Based in Lanark
,
South Lanarkshire
A versatile entertainer, this Magician can provide magical entertainment for children and adults. Whether it is close-up or on stage, this is always a
---
Magician #4004
Based in Devizes
,
Wiltshire
has performed as a Close-up Magician over the last 6 years performing incredible sleight of hand magic leaving spectators blown away & amazed!
---
Magician #3942
Based in banbury
,
Oxfordshire
UK'S NO.1 ONE MAN VARIETY SHOW with TV credits including The Graham Norton show
---
Magician #3843
Based in Blyth
,
Northumberland
One of the UK's best Comedy Stage Hypnotists performing today. Fast paced and hilariously funny, the one your guests will be talking about for years t
---
Magician #3831
Based in Nottingham
,
Nottinghamshire
Professional award winning magician offering bespoke entertainment packages for all sorts of events who performs throughout the UK.
---
Magician #3816
Based in Castle Douglas
,
Dumfries Galloway
I am able to offer a wide range of entertainment options in my show including, Ventriloquism, Balloon Twisting, Puppets, Comedy Magic, Close-up Magic,
---
Magician #3805
Based in Leicester
,
Leicestershire
Award winning Leicester Magician is one of UK's most sought after close up magicians specialising in Wedding and corporate Magic.
---
Magician #3759
Based in Grantham
,
Lincolnshire
Mind Reader, Magician and Psychic Entertainer, who has worked for clients as diverse as Frankie and Benny's and Harvey's Furnishers, and has appeared
---
Magician #3729
Based in Shrewsbury
,
Shropshire
Close up/ walkaround artist. Magic, mindreading and hypnotism all blended to create a unique entertainment experience.
---
Magician #3709
Based in Sleaford
,
Lincolnshire
What would be the special ingredient that makes your party or evening truly amazing? Having been in the entertainment business for 20 years, working
---
Magician #3708
Based in Harlow
,
Essex
the perfect choice for something a little different at your party or event. Completely unique in the magic world. No boring wands, or stupid waistcoas
---
Magician #3698
Based in wigan
,
Greater Manchester
He is truly incredible, he doesn't just do magic tricks, he also tells a story and really grabs you into the moment! Coins, cards, mentalism,bottles,
---
Magician #3675
Based in Crawley
,
East Sussex
A close up magician who specialises in performing close-up magic across the UK and is a proud member of the 'International Brotherhood Of Magicians'.
---
Magician #3650
Based in Gloucester
,
Gloucestershire
As seen on TV," A very British Party" 2012. An entertainer with 30 years experience in children's magic.One of the most popular and reliable entertain
---
Magician #3602
Based in Nottingham
,
Nottinghamshire
Award Winning Magician, is regarded as one of the UK's top close up magicians and entertainers. He travels UK wide performing unique, cutting edge, in
---
Magician #3585
Based in Seaforth
,
Merseyside
We are a family business specialising in children's and family entertainment around Merseyside and the North West.
---
Magician #3584
Based in Whitefield
,
Greater Manchester
Children's Entertainer
---
Magician #3463
Based in Farnham
,
Surrey
First class close up magician for weddings, restaurants and corporate events. This act is a seasoned, skilled close up magician performing amazing tri
---
Magician #3424
Based in Wrexham
,
Flintshire
Top award winning magician is one of the leading sleight of hand entertainers in his field today. His performances have earned him a whole host of pre
---
Magician #3379
Based in wolverhampton
,
West Midlands
Professional Magician and Mentalist available for weddings, private parties and corporate events.
---
Magician #3364
Based in Corby
,
Northamptonshire
Winner of The Highest Award in the UK, for Close Up Magic. Professional Magic for all occasions. Member of The Inner M
---
Magician #3331
Based in Carmarthen
,
Carmarthenshire
A stunning close-up magician who has been performing magic professionally for over twenty years.
---
Magician #3277
Based in Kidderminster
,
Worcestershire
Award-wining artist specializing in magic, mentalism and comedy. He has entertained crowds of all sizes and performed magic in the UK & Abroad.
---
---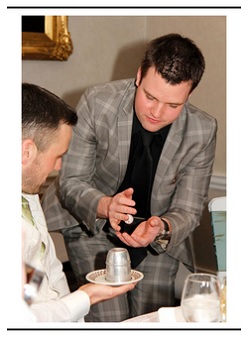 Magician #3196
Based in Ashford
,
Kent
A member of The Magic Circle & Equity with over ten years performing experience, a client list including Katy Perry, Kate Bush, Pink Floyd, Ferrari, S
---
Magician #3168
Based in Dorset
,
Dorset
A professional close-Up magician, hypnotist and entertainer. Whether it's a birthday party, a christening, a wedding anniversary or just an excuse to
---
Magician #3149
Based in burnham
,
Somerset
WORLD OF VOCALS AND ILLUSIONS. A BRAND NEW AND EXCITING MAGIC AND ILLUSIONS/LIVE VOCALS ACT FOR 2014.
---
Magician #3141
Based in Edinburgh
,
Edinburgh
A professional close-up/walkabout magician offering modern and spectacular magic to entertain guests for weddings, corporate events and parties. Expec
---
Magician #3133
Based in Lincoln
,
Lincolnshire
Magical Parties Presents Family Entertainment we are able to supply Magic Shows, Ventriloquism, Disco's, Balloons, Games & Prizes.
---
Magician #3096
Based in burnham-on-sea
,
Somerset
Close-up Magic is perfect for any functional event. Corporate events, Weddings, Birthdays, (etc). The list goes on. Nothing beats seeing the mag
---
Magician #3069
Based in Flitwick
,
Bedfordshire
A combination of amazing sleight-of-hand magic and humour continue to be the key factors that have made him the increasingly popular choice for corpor
---
Magician #3061
Based in Dundee
,
Dundee
A well established magic and entertainment business offering its services to customers Nationwide
---
Magician #3034
Based in Edinburgh
,
Edinburgh
Award-winning childrens entertainment and astounding adults entertainment throughout Edinburgh, West Lothian, East Lothian and Fife
---
Magician #3031
Based in Rochester
,
Kent
Close up magic is an ideal accompaniment to any function or event, it's an ideal ice breaker and a super way to ensure your event is talked about long
---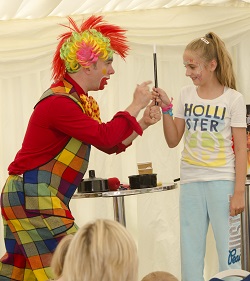 Magician #2943
Based in Buckie
,
Moray
Clown, Balloon Modeller and Children's Magician. Children's slapstick comedy show! Clown/Circus workshops can be provided at children's parties and
---
Magician #2852
Based in Leeds
,
West Yorkshire
A young, modern, close-up magician. Forget about the top hats and rabbits, there's none of that here. He uses a variety of objects such as cards, coin
---
Magician #2756
Based in Falkirk
,
Stirling
Acts of Mind-reading and premonition, psychological persuasion and influence are combined to create a cracking show that will captivate the most deman
---
Magician #2740
Based in Leicester
,
Leicestershire
* MAGIC SHOWS * GAMES * BALLOON MODELLING * KIDS FUN DISCO * PUPPETS * DISCO/KARAOKE * FACE PAINTING * ALL AGES
---
Magician #2738
Based in stoke on trent
,
Staffordshire
Close up magician availble for parties wedding and other events Make your event extra special with a touch of MAGIC
---
Magician #2733
Based in London
,
Greater London
The Drag Queen that sparkles with Magic.....
---
Magician #2732
Based in Bristol
,
Bristol
Up and coming street magician, mainly specialising in cards, but variety of tricks available for performance
---
Magician #2656
Based in Aberdeen
,
Aberdeenshire
Scotland's Premier family entertainer since 2004
---
Magician #2654
Based in Clydebank
,
West Dunbartonshire
Magic, Fun & Games, Balloons, Prizes & Lots more! Parties form 1 hour duration. Let this entertainer take the effort out of your day. Grans to Granwai
---
Magician #2633
Based in London
,
Greater London
One of the UK's most versatile and universally appealing entertainers, this Hypnotist will make your event unforgettable with his special blend of com
---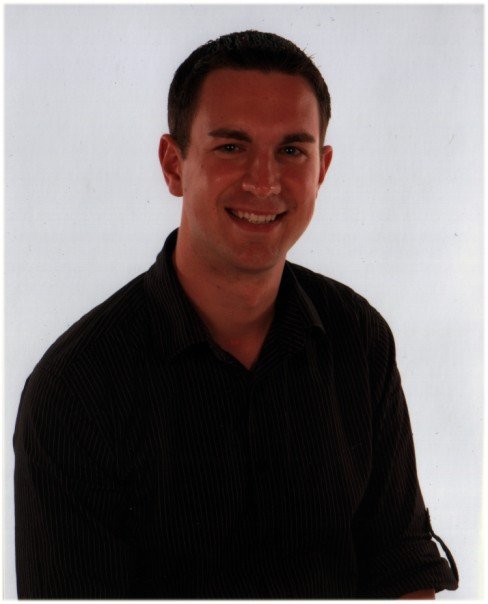 Magician #2622
Based in Tollcross
,
Glasgow
All round performer and entertainer just back from 8 years on Cruise ships as Cruise director and performer.
---
Magician #2603
Based in Chelmsford
,
Essex
Are you capable of free will or is everything controlled? Book and find out. He is a magician and psychological mind reader with 10 years' experience
---
Magician #2557
Based in London
,
Greater London
A magician and drag artiste that can be relied on to add some extra sparkle and glamour to your event. This glamorous comedy magic entertainer is best
---
Magician #2544
Based in kirkby stephen
,
Cumbria
He has been doing magic since he was 6 years old, he has peformed in many places including, 3 years at JAGUAR, many weddings, dinner parties, quarter
---
Magician #2542
Based in Hornchurch
,
Essex
He combines sleight of hand, charm and humour to entertain audiences at some of the most glamourous locations in London and the UK.
---
Magician #2520
Based in Tamworth
,
Staffordshire
Forget the typical image of a Magician,This one is young, cool, fresh and performs the latest Dynamic Close Up Magic. You will be both amazed and frea
---
Magician #2478
Based in Brighstone
,
Isle of Wight
Mentalism. Mind-reading. Psychological Illusions. All of these terms have been applied to what I do, alongside more traditional magic. Close up, walka
---
Magician #2450
Based in Taunton
,
Somerset
The ultimate crazy mad capped clown! Available for walkabouts or Statics!
---
Magician #2403
Based in Derby
,
Derbyshire
Bret is magician and professional trickster. He is known around the city of Derby for his barrier breaking feats of Magic, Mentalism and Hypnosis. Wh
---
Magician #2389
Based in Milford Haven
,
Pembrokeshire
Mind Twisting Magic and Thought Reading.
---
Magician #2373
Based in Manchester
,
Lancashire
High quality, award winning Close-up Magic where you want it, when you want it and tailors each performance specifically for your event to make it spe
---
Magician #2347
Based in Birmingham
,
West Midlands
He is a popular walk around magician specialising in close-up/street style magic and illusions. Available for Weddings, Corporate events and all othe
---
Magician #2310
Based in Ruislip
,
Hertfordshire
As a Magician he has been leaving audiences baffled for over a decade! Refreshing and funny. He has been performing Magic to audiences for over a deca
---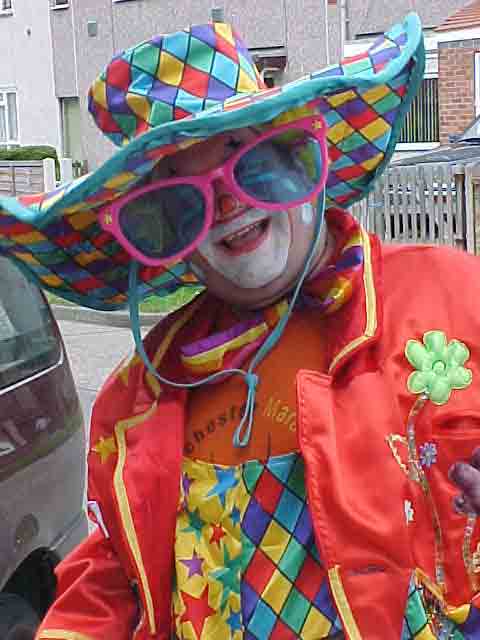 Magician #2307
Based in wythenshawe
,
Greater Manchester
magical clown, children's entertainer ,Childrens partys nursery school school shows shopping centre gala days halloween partys weddings close-u
---
Magician #2293
Based in Clutton
,
Cheshire
Looking for a unique and genuinely funny close up magician who will interact with your guests, leaving them laughing and amazed?
---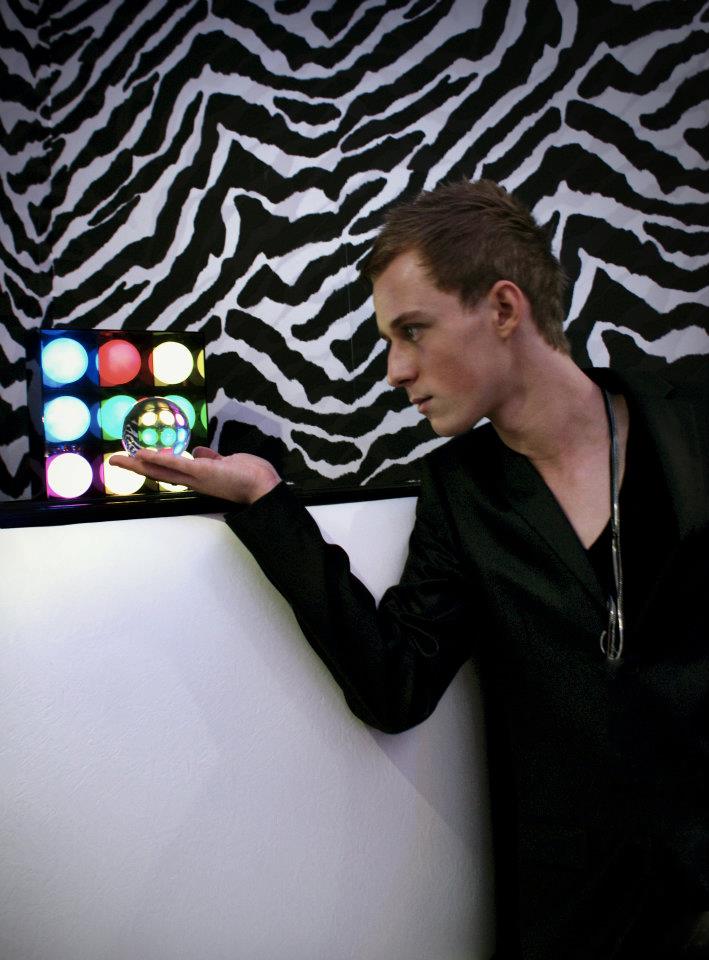 Magician #2290
Based in lowestoft
,
Suffolk
21st century magic performance forget the top hats and rabbits.
---
Magician #2287
Based in Chapel-en-le-Frith
,
Derbyshire
He performs amazing close-up magic at Weddings during the drinks reception and / or between the courses, at Corporate Events, at Parties, Christenings
---
Magician #2263
Based in Loughborough
,
Leicestershire
We are a circus performance group based in the UK. We can offer a wide range of exciting entertainment options for any event. We have a highly skil
---
Magician #2254
Based in Durham
,
Durham
Looking for something different?... Professional Equity Member, past Secretary of local Magic Circle and Full Member of the exclusive British Socie
---
Magician #2228
Based in Shirebrook, Mansfield
,
Nottinghamshire
This magician is a skilled, professional entertainer who is guaranteed to bemuse your guests and turn your event into a magical occasion. From bafflin
---
Magician #2204
Based in Cheslyn Hay
,
West Midlands
We have been described as 'A Breath of Fresh Air' and 'The UK's answer to Penn and Teller'. We combine mind blowing magic, stunning illusions, phy
---
Magician #2155
Based in milngavie
,
Glasgow
Children's entertainer in Glasgow , Scotland. Scotland's no1 for family fun. Magic , games , party dances , balloons , disco , Sammy Squirrel and Bu
---
Magician #2125
Based in GLASGOW
,
East Renfrewshire
A full time professional magician, based in Glasgow but covering the UK and Europe. He has over 25 years experience in entertainment, and this experie
---
Magician #2108
Based in Bristol
,
Somerset
Bristol Based Magic for adults or children, Parties and weddings, Hospitality or Event promoting...... bristol
---
Magician #2106
Based in Worthing
,
West Sussex
Lively shows that are fun, silly & energetic, featuring a wide variety of colourful and visual magic - all wrapped up into pantomime style shows with
---
Magician #2103
Based in Milford Haven
,
Pembrokeshire
Whether your next event is a Wedding, Corporate event or Children's party, or a simple get together for friends and family this Magician will make it
---
Magician #2074
Based in st teath
,
Cornwall
This Magician has been a professional entertainer for over 16 years a member of Leicester Magic Circle, PJF, PUK and Equity. he is fully insured and
---
Magician #2061
Based in Bury St Edmunds
,
Suffolk
This is Magic with a magician with a difference He brings unique and contemporary twist to magic leaving even the most sceptical of people picking
---
Magician #2009
Based in Ormesby St Margaret
,
Norfolk
Close up magic and physiological sleight of mind to entertain at weddings, christenings, trade shows and private parties. As a member of the Magic Cir
---
Magician #2007
Based in lowesotft
,
Suffolk
Stunning visuals and extra funny comical timing have entertained generations of adults and children alike. His vast array of styles and every increasi
---
Magician #1997
Based in Clevedon
,
Bristol
A young professional magician who receives rave reviews of his acts. The Acts offered are presented in a stylish and modern fashion, and are accompani
---
Magician #1987
Based in uddingston
,
South Lanarkshire
Magician and Balloon Modeller Catering for Children and Adults from 3 to 103 Providing Music and games as required
---
Magician #1970
Based in Larkfield, Aylesford
,
Kent
Paul is an upcoming magician based in kent area, with a unique and contempory style.
---
Magician #1916
Based in Lincoln
,
Lincolnshire
From private party to corporate event Brian will amaze and entertain your guests with a unique form of entertainment that suits all ages. "Full of e
---