Pianist #3992
Based in Exeter
,
Devon
Cocktail Piano for Receptions, Restaurants and Special Occasions.
---
Pianist #3932
Based in Whitehaven
,
Cumbria
Pianist for any occasion any location
---
Pianist #3925
Based in Northampton
,
Northamptonshire
The perfect solution if you require piano entertainment for your wedding, party or other function. He plays a wide variety of music to create the perf
---
Pianist #3916
Based in Doncaster
,
South Yorkshire
Available as a cocktail pianist to add sophisticated background music to your event/function or also available as a Piano Vocalist with backing tracks
---
Pianist #3891
Based in Claines
,
Worcestershire
Smooth jazz piano, the soundtrack for any occasion
---
Pianist #3854
Based in Nottingham
,
Nottinghamshire
Ambient Classical Piano and Classic Songs.
---
Pianist #3842
Based in Newcastle Upon Tyne
,
Tyne and Wear
Wedding Keys - Newcastle Pianist for Weddings & Events
---
Pianist #3803
Based in Cadishead
,
Greater Manchester
Live piano music to help make your special occasion or corporate event the best it can be. Wedding pianist, civil ceremonies, birthdays, anniversaries
---
Pianist #3795
Based in Truro
,
Cornwall
Jazz/Classical Pianist with twenty years of experience, available for weddings and functions throughout the south of England.
---
Pianist #3772
Based in Bishop Auckland
,
Durham
Let yourself get lost in the nostalgia that is tickle your ivories Entertainments! Invigorate yourself to the beat or lose yourself in the tranquil so
---
Pianist #3768
Based in Bury St Edmonds
,
Suffolk
Highly experienced pianist with many years of playing live, ensures that he will always provide an extremely professional and tailored service.
---
Pianist #3764
Based in Fivemiletown
,
County Tyrone
A two piece piano based rockabilly band with a sound more full than that of any 5 piece band, with thunderous bass from the left hand, and piercing hi
---
Pianist #3684
Based in LEEDS
,
West Yorkshire
An enthusiastic musician who has experience playing at lots of different functions, especially weddings
---
Pianist #3603
Based in Falmouth
,
Cornwall
long established professional pianist
---
Pianist #3570
Based in Elgin
,
Moray
Professional Highland Bagpiper based in the North East of Scotland. Available to travel anywhere in UK and abroad.
---
Pianist #3561
Based in Pencaitland
,
East Lothian
Professional pianist who can provide music to suit any event : Weddings / Civil Partnerships, Corporate Functions, Dinner Parties - covering a range o
---
Pianist #3432
Based in Rotherham
,
South Yorkshire
Accomplished Pianist & Musical Director Private Functions May be booked to play during private dinner parties and champagne receptions. Particul
---
Pianist #3414
Based in Chard
,
Somerset
He is an experienced pianist who has been broadcast on BBC Radio 3, 4, and 5. A graduate of the Birmingham Conservatoire in classical piano, he has wo
---
Pianist #3402
Based in Maryport
,
Cumbria
Solo pianist - is available to create just the right ambience for your wedding with a wide repertoire of jazz, swing and pop music for your recepti
---
Pianist #3369
Based in cannock
,
Staffordshire
There can be few who do not look forward to enjoying the bubbling personality of the Queen of the Keyboard She moves effortlessly between grand
---
Pianist #3367
Based in Mowsley
,
Leicestershire
Pete is a brilliant pianist and he plays a fabulous selection of classical music and timeless arrangements of a wide variety of popular pieces incl
---
Pianist #3296
Based in ballyclare
,
County Antrim
She is a qualified pianist with a versatile repertoire and an ability to learn new pieces on request. The fact that she is young means a low price mak
---
Pianist #3234
Based in
,
Hello, My name is Christina, I would like to permanently immigrate to UK. I'm 31 years old and I am a pianist by profession . ( I graduated from the
---
Pianist #3190
Based in Pontypridd
,
Rhondda Cynon Taf
A hugely versatile and sensitive pianist who's friendly and professional approach, along with his extensive and bespoke repertoire, will ensure that y
---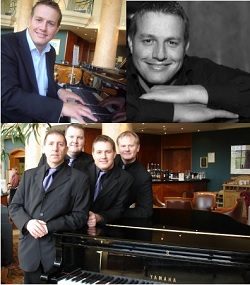 Pianist #3189
Based in sudbrook
,
monmouthshire
Pianist and Vocalist from South Wales that has entertained professionally at private and corporate events and weddings in Britain and across the world
---
Pianist #3139
Based in North Walsham
,
Norfolk
I am a very experienced party pianist, with a vast repertoire of songs, tunes and piano instrumentals from the 1900's to the 2010's. I am available fo
---
Pianist #3044
Based in Edinburgh
,
Edinburgh
A professional pianist singer and music producer based in Edinburgh. Performs in hotels and pianobars throughout the UK and Europe and covers a wide r
---
Pianist #2956
Based in Salford
,
Greater Manchester
A Piano and vocal duo that will add an atmosphere of sophistication to your wedding breakfast/drinks reception, private party or corporate event.
---
Pianist #2880
Based in Blandford Forum
,
Dorset
This Pianist has had regular gigs in most of the top hotels in the region and has also enjoyed playing in various restaurants and cruise ships.
---
Pianist #2838
Based in Farnham
,
Surrey
As a Pianist and Singer, with a vast repertoire spanning five decades from the 50s to current chart material, whether it's something laid back you wan
---
Pianist #2787
Based in Poole
,
Dorset
Female Solo Modern Piano - the Perfect Background to Your Event.
---
Pianist #2750
Based in Gloucester
,
Gloucestershire
An accomplished pianist who achieved Grade 8 Distinction at age 16 and has played at a range of venues including Gloucester Cathedral and Berkeley Cas
---
Pianist #2686
Based in Leeds
,
West Yorkshire
Guitarist both Acoustic & Electric in a variety of styles. Play's Piano. Creates ambiant, relaxing soundscapes on request.
---
Pianist #2683
Based in Inverness
,
Highland
Wedding Pianist, Organist, Functions, Corporate events, Parties, anniversaries, banquets - Solo - Duo Piano/Organ & Sax/Clarinet, Piano & Flute, Pia
---
Pianist #2651
Based in hungerford
,
Berkshire
Pianist / Vocalist / Keyboards......
---
Pianist #2599
Based in Lydney
,
Gloucestershire
Boasting an ever-increasing repertoire of both classical and popular pieces, he has a tune for every occasion. Has collected a number of first place s
---
Pianist #2579
Based in Leamington Spa
,
Warwickshire
A highly respected professional, hard working and enthusiastic pianist from Leamington Spa whos vast experience has found him in constant demand and h
---
Pianist #2501
Based in Canterbury
,
Kent
Jazz pianist and singer from Canterbury, Kent. Available to hire for weddings, dinner parties, drinks receptions and functions; setting the perfect mo
---
Pianist #2469
Based in Ulverston
,
Cumbria
A full-time, highly professional and experienced wedding and events pianist. operating mainly in The English Lake District and its surrounding countie
---
Pianist #2467
Based in Loughborough
,
Leicestershire
Set the right tone with beautiful and inspiring pieces played on the violin or piano. A highly established and award-winning pianist and violinist. He
---
Pianist #2440
Based in Kidderminster
,
Worcestershire
A professional pianist based in Kidderminster, Worcestershire he has many years experience performing piano music at high class hotels, restaurants,
---
Pianist #2387
Based in High Barnet
,
Hertfordshire
Wedding pianist, party pianist and singer. Perfect choice for weddings, bar mitzvah, cocktail parties, office parties, retirement parties
---
Pianist #2381
Based in Deeping St James
,
Lincolnshire
Professional musician / pianist who plays a variety of different styles of music on piano and plays primarily by ear. Most of the piano pieces are his
---
Pianist #2369
Based in Penryn
,
Cornwall
This performer is the ideal choice for a cocktail or an event pianist and singer. As well as having an enormous and constantly expanding repertoire of
---
Pianist #2363
Based in Sevenoaks
,
Kent
Accomplished jazz pianist who plays a wide range of music, including traditional, blues, bebop, swing, jazz funk, cool jazz and latin
---
Pianist #2354
Based in Southampton
,
Hampshire
Pianist with a wide repertoire, covering many styles from standards and jazz through to light classics, show tunes and some of the latest chart hits.
---
Pianist #2331
Based in Waltham Abbey
,
Essex
Singer/Piano Player/Guitarist, suitable for all occasions. Acoustic performer. Pop/Rock/Jazz/Soul/Country/Classical and more. Extremely competitive
---
Pianist #2250
Based in Stenhousemuir
,
Falkirk
Very experienced pianist/accompanist available for concerts, cabaret, weddings, corporate events. All genres catered for.
---
Pianist #2184
Based in Whitehaven
,
Cumbria
Professional, experienced lounge pianist
---
Pianist #2134
Based in Comrie
,
Perth Kinross
Well known pianist for special events. Unique arrangements of pop, rock, film and classical with extensive repertoire built on years of experience.
---
Pianist #2117
Based in Belper
,
Derbyshire
A fully qualified, classically trained wedding pianist. Also available for corporate functions, carnivals, garden parties, birthdays, anniversaries, d
---
Pianist #2066
Based in Chester-Le-Street
,
Durham
Live Piano/Entertainer Great Image and excellent repertoire, covering all genres
---
Pianist #2037
Based in Braintree
,
Essex
Grade 8 pianist/accompanist available for weddings, functions, background music, or any of your other needs.
---
Pianist #1999
Based in London
,
Greater London
Young and specialist cocktail pianist who offers elegant and stylish performances from classical and easy listening to Jazz and Latin. Perfect for coc
---
Pianist #1994
Based in Abingdon
,
Oxfordshire
Vocalist,Keyboardist and Guitarist Great divesity playing Rock'n'Roll to latest charts
---
Pianist #1992
Based in Colchester
,
Essex
One of the UK's most exciting piano performers with an 'all embracing' repertoire which delights audiences of all ages both Nationally and Internation
---
Pianist #1911
Based in Alum Bay New Road
,
Isle of Wight
Traditional piano player available for lounge and function music.
---
Pianist #1901
Based in SHILDON
,
Durham
Professional female piano duo available for your wedding or private function. Experience in performing in 5* hotels
---
Pianist #1889
Based in Colwyn Bay
,
Conwy
Very experienced Pianist with a Versatile Repertoire of Jazz and Classical music.
---
Pianist #1877
Based in newton abbot
,
Devon
Cocktail Pianist & Saxophonist Available for weddings/hotels/restaurants & private functions to create a sophisticated ambience of background music
---
Pianist #1876
Based in Tynemouth
,
Tyne and Wear
Professional experienced and versatile solo jazz or classical pianist for weddings, concerts and events. Nicholas has also worked in professional musi
---
Pianist #1830
Based in Hull
,
Humberside
This is a versatile, highly accomplished and experienced pianist and self-accompanied singer, with an extensive and diverse repertoire of completely m
---
Pianist #1713
Based in Great Missenden
,
Buckinghamshire
A highly skilled and versatile pianist and violinist with 20 years of experience performing all over the UK and internationally - from the Prime Minis
---
Pianist #1640
Based in Lambourn
,
Berkshire
Professional freelance pianist, available for hire to play for private engagements, weddings and corporate function
---
Pianist #1613
Based in Llanfairfechan
,
Conwy
Experienced Pianist versatile providing an excellent programme of music for any occasion
---
Pianist #1596
Based in Wellingborough
,
Northamptonshire
Highly entertaining Solo Pianist and Piano-Vocalist/multi-keyboard-vocalist. A varied repertoire of popular songs and tunes spanning many decades and
---
Pianist #1375
Based in Tarporley
,
Cheshire
Classically trained pianist plays jazz, pop, songs from the shows and jazz. Perfect for weddings.
---
Pianist #1374
Based in macclesfield
,
Cheshire
Cocktail/lounge pianist plays popular classics as quality background music
---
Pianist #1369
Based in London
,
Greater London
Pianist, composer and band leader of Russian extraction based in London, pianist and director of the critically acclaimed Moscow Composers Orchestra
---
Pianist #1302
Based in market bosworth
,
Warwickshire
Cocktail piano
---
Pianist #1231
Based in Haverfordwest
,
Pembrokeshire
Classy cocktail jazz piano with one of Wales' top pianists. Add a touch of style to your event with gentle background music, or boogie the night away
---
Pianist #1224
Based in bristol
,
Bristol
british-colombian pianist...plays music from the caribbean,jazz from usa...romantic music,also provides more bands...more details on his website.
---
Pianist #991
Based in KNOWLE
,
West Midlands
piano player / entertainer
---
Pianist #987
Based in wednesbury
,
West Midlands
i am a cocktail pianist and have been working in hotels and restaurants since 1987. I am currently working on the cruise lines for Carnival UK (since
---
Pianist #974
Based in London
,
Greater London
student at RAM, in London. I can play both difficult and light classical music, or light jazz.
---
Pianist #904
Based in Manchester
,
Lancashire
Jazz and Blues Pianist with years of experience covering all types of function and occasion
---
Pianist #903
Based in Troon
,
Glasgow
Experienced piano player. Glasgow and Troon area. Available for Wedding Ceremonies and other piano parties
---
Pianist #812
Based in London
,
Greater London
Solo pianist playing mainly jazz and latin as well as popular tunes and classical etc. Huge repertoire of tunes to select from and plays to reflect a
---
Pianist #763
Based in Sale
,
Cheshire
A versatile performer and popular crowd-pleaser, he is equally at ease playing gentle melodies on the piano or upping the tempo to fill the dance floo
---
Pianist #725
Based in Chippenham
,
Wiltshire
A boogie woogie / blues pianist, also plays middle of the road music that is ideal for small functions and parties.
---